This Week's Corrections Connection
Wednesday | May 2, 2007
EDITOR'S CORNER
Effective communication is the cornerstone to projecting an image or idea to an audience that is not familiar with your work or mission. Corrections can be particularly "hand-cuffed" when communicating with the public because many stories about the field come from the media, who present information through their own filters.

Len Sipes, a communications professional in Washington, DC, tells us that it is high time corrections takes control of how they communicate with the public, without interference from those who may misinterpret information or intentions. He says podcasts are the way to achieve this communications freedom and encourages every agency to pursue this surprisingly inexpensive and not-too-difficult strategy.
Jim
Tell us what you think at editor@corrections.com.
GET PUBLISHED
Would you like to write for our site?
Corrections.com is currenlty seeking corrections professionals interested in regularly contributing articles about corrections health, education and law. Contact us at editor@corrections.com
FEATURED STORY
So you want to podcast?
By Leonard A. Sipes, Jr.

Telling your story without the media filter


We started podcasting in October of 2006. As the chair of the website committee for the Court Services and Offender Supervision Agency, it was our desire to add audio and video content to our redesigned website,www.csosa.gov. The new site will be up and running this summer.

CSOSA is a federal, executive branch entity providing parole and probation services to Washington, D.C. It has a national reputation for excellence in design and execution, so we wanted a site to match our reputation. We desired an experience that would be user-friendly with a choice to read, listen or watch story-based accounts of our operations.

In consultations with our IT department, they suggested doing more than adding audio of video content. They suggested we provide audio and video podcasting. More
Have a story idea or article? Send them to editor@corrections.com.
READER FEEDBACK
Regarding Bumpy road for community treatment programs, 4/16/07

I think it speaks volumes about the issues facing not only jails but prisons in general. The economic impact of incarcerating non-violent offenders is staggering, and we will continue to face issues of overcrowding and understaffing.
DG, South Carolina Department of Corrections

Send letters to the editor to editor@corrections.com.
When sending a response, please reference the article.
LOOKING AHEAD
Developing Stories

Upcoming stories on Corrections.com and the Corrections Connection ezine

CO e-memorial
Mock Riot review
Indiana Father In/Out program

Focus Issues 2007




May/June
Technology and Security - new technology, conferences

July
Threat Groups - gangs, procedures on managing, avoiding

August
Off the Clock - What practitioners do in their leisure time



We are currently accepting submissions for all issues.

Contribute




CORRECTIONS.COM FEATURE STORIES
Feeling the pain
Lethal injection has been at the center of heated debates, execution appeals and numerous lawsuits for corrections departments across the country. More
Foundations - We are who they say we are
They say that perception is reality. It does not matter how well you know your own abilities, values and history. It is natural that others will view you through their own perceptions and experiences. More
New weapons in the raging HIV battle
Maraviroc and Raltegravir may not stir emotions in many folks working inside corrections or even in facility health care units, but they did excite the Infectious Diseases in Corrections Report staff enough to include information about these two new antiretroviral agents in their coverage of the Conference on Retroviruses and Opportunistic Infections. More
BUSINESS NEWS
American Jail Association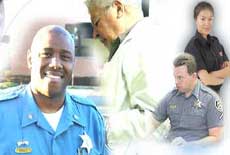 The American Jail Association (AJA) is a national, nonprofit organization dedicated to supporting those who work in and operate our nation's jails. AJA's goal is to provide the best and most current information available through our American Jails magazine, extensive training seminars and publications containing information the jail professionals rely on. Learn more.
American Assn. of Anger Management Providers elects new president
The American Association of Anger Management Providers appoints a number one rated Anderson and Anderson anger management provider–Carlos R. Todd, as President. More
Triton Industries announces corporate membership
Triton Industries, Inc. located in Chicago Illinois has announced that it has become a corporate member of Corrections.com. More
American Correctional Health Services Association (ACHSA) to hold national roundtable on medication assisted therapy and harm reduction in correctional settings
Announcing a National Roundtable Meeting on Medication Assisted Therapy and Harm Reduction in Correctional Settings to be held on June 4, 2007 in conjunction with the American Correctional Health Services Association (ACHSA) 2007 Multidisciplinary Professional Development Conference in Reno, Nevada June 5-7, 2007. More
CAREER WATCH
Baldwin, Gnall take top posts

John Baldwin is the new Iowa Department of Corrections Director. He will oversee approximately 8,900 inmates in nine state prisons and about 30,000 community corrections offender on parole, probation and work-release.More

Visit our job center today

Employers:

Job Seekers:
EVENTS
OLETC Mock Prison Riot
Date: 5/6/07 - 5/9/07
The Office of Law Enforcement Technology Commercialization (OLETC), the National Institute of Justice (NIJ), the National Corrections and Law Enforcement Training and Technology Center (NCLETTC) and the West Virginia High Technology Consortium Foundation (WVHTCF) annually host a Mock Prison Riot on the grounds of the former West Virginia Penitentiary in Moundsville. The purpose of the riot is to showcase emerging corrections and law enforcement technologies and to give corrections officers and tactical team members an opportunity to use and evaluate emerging technologies in riot training scenarios. More
Licensed Vocational Nurse Hiring Workshop
Date: 5/10/07
The California Department of Corrections and Rehabilitation (CDCR) could be the answer if you are seeking a rewarding and stable professional career in a safe and secure environment. More
Emotional Survival for Public Safety Personnel
Date: 5/21/07
This course addresses the dynamics of a public safety career. We enter as idealistic and committed employees and along the way have to find ways to avoid becoming cynical, angry and self destructive. More
Verbal Judo: Excellence in Tactical Communications
Date: 5/23
Course content helps enhance safety, diffuse dangerous situations, lessen stress at home and work. More
QUOTE OF THE WEEK
Baseball is ninety percent mental. The other half is physical.
- Yogi Berra