>> what's your opinion?
RCJ
Technology is great when it works, but the new system we have has numerous glitches that will never get repaired. Another problem is that it crashes often and it takes hours to get it back up and running. I'm of the opinion that it is tragic that facilities will run short on staff because of funding, but always find money to spend on new toys. I'm all for new tools that function properly and are reliable, but have yet to see that happen. As it is we spend to much time on computers doing data entry when we should be on the floor. I hope that your system works better than the other crap that's out there... view full thread
---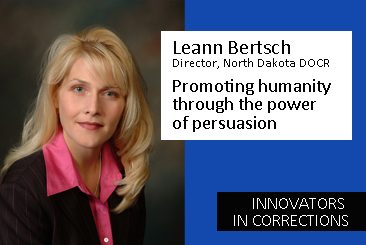 Few career corrections professionals can lay claim to gaining international notoriety as the subject of an article in Mother Jones magazine (an American magazine that focuses on news, commentary, and investigative reporting on topics including politics, the environment, human rights, and culture). The article, entitled "North Dakota's Norway Experiment," described the impact of a visit to a maximum-security prison in Norway in 2015 by Leann Bertsch, Director of North Dakota's Department of Corrections and Rehabilitation (DOCR)...
read full story
Also this week:
---
March - Ethics & Heroes - Coverage of Ethics issues and stories of heroes in correctionseditor@corrections.com
Featured Job
In a training capacity, performs security work among offenders at an adult correctional facility. Assist in controlling, directing, and monitoring the activities and movement of offenders during work assignments, meals, recreation activities, medical calls, educational classes, return to cells, etc. Employees work with offenders in a potentially hazardous setting. Please consider this when deciding whether or not to apply... >> view full job posting
---
Upcoming Events
Business News
The only way to discover the limits of the possible is to go beyond them into the impossible.


- Arthur C. Clarke