>> what's your opinion?
shakeyjake
California's court passed this drug thing years ago and it set precedence for the other states to follow. I had to do with Correctional Officers complaining about their privacy being violated, the courts ruling stated something like " Due to the nature of our jobs as Correctional Officers we have no right to privacy". Basically it means you have the same rights as an Inmate. NONE. Back them it was a big thing to protect your privacy but as we all can see, society has a way of adapting to the sheep mentality of just follow your leaders for they know what's good for you... view full thread
---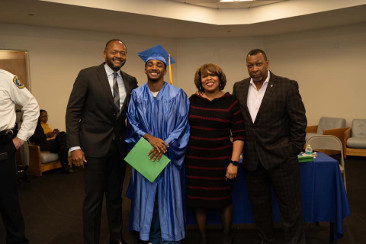 At the Suffolk County House of Correction in Boston, Massachusetts, the Adult Secondary Education/High School Equivalency Program prepares students with, at minimum, an 8th grade reading level to earn their high school equivalency diploma or HiSET, which is equivalent to a GED. The students are prepared for the five areas of the HiSET test: language arts, reading, science, social sciences and mathematics. October 30, 2019, a graduation was held for 27 students who worked diligently to pass their HiSET exams or receive their high school diploma...
read full story
Also this week:
---
Featured Job
Provides oversight and monitoring of division's operations, functions and reports to ensure effective delivery of services and accurate, timely and proper reporting of the division's mission and responsibilities. Supervises the superintendents of four 24-hour daily operation residential institutions. Works collaboratively with department management, governmental agencies and the community to ensure effective and efficient delivery of services... >> view full job posting
---
Upcoming Events
Business News
The opportunity is often lost by deliberating.


— Publilius Syrus



Published